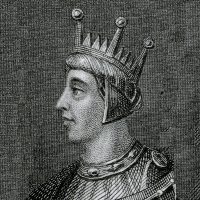 King Eadred family tree showing:
parents


siblings

Short Biography
Early Years
King Eadred was born in 923 the second son of King Edward the Elder by his third wife, Eadgifu of Kent. His elder brother, Edmund, had been born in 921.
Edward the Elder also had a son, Aethelstan by his first wife, Ecgwynn and two sons – Edwin and Aelfweard and four daughters by his second wife, Aelfflaed.
Eadred's father died in 924 when Eadred was a baby. His half-brother Aelfweard is thought to have succeeded to the throne but died after a short while. Aethelstan, aged 29 years, then became King.
Path to the Throne
King Aethelstan ruled England for the next 15 years until his death on 27th October 939. He had not married and had no children so the throne passed to Eadred's elder brother, Edmund.
Eadred's brother King Edmund married and had two sons. However, when he was murdered in 946 and Eadred was selected as King because Edmund's sons were considered too young to take the throne.
King of England
Eadred was crowned King of England on 16th August 946 at Kingston upon Thames by the Archbishop of Canterbury.
In 947 the Viking Eric Bloodaxe took control of Northumbria. King Eadred immediately mounted a campaign to regain control of the kingdom. Eadred supported the rule of Olaf Sihtricson but was challenged by Archbishop Wulfstan of York who supported Eric Bloodaxe. In 952 Eadred managed to capture and imprison the Archbishop. Eric Bloodaxe was then expelled from Northumbria.
Eadred did not marry or have children. He suffered from a digestive disorder that prevented him from properly digesting food and he died at the age of 32 years on 23rd November 955. He was succeeded by his nephew Eadwig.
First published 2017; updated and republished Apr 14 2022 @ 7:12 pm – Updated – Sep 16, 2022 @ 10:54 am
Harvard Reference for King Eadred Family Tree:
Heather Y Wheeler. (2017 – 2022). King Eadred Family Tree (923-955) . Available: https://www.treesofblue.com/king-eadred-923-955. Last accessed November 5th, 2023